Naturopathic Doctor | Portsmouth, NH
---
Why Consult a Naturopath?

You want advice from a specialist who is well trained in natural therapies.
You want to make an informed decision about your health.
You want a natural health program designed for you.
You are confused by contradictory health claims.
You are concerned about the long-term side effects of drugs.
You have an uncommon health problem that has many specialists baffled.
The drugs you are taking cause side effects that are worse than the original problem.

What can my ND help me with?

Athletic Performance Optimization & Recovery
Energy Levels
Digestive Issues & Weight Loss
Focus & Cognition
Stress & Anxiety/Depression
Immune Function
Hormone Balance and Bio-identical Hormone Replacement
Pain & Inflammation/Injuries
Chronic Conditions / Lyme and Tick-borne Illness
---
At any age, any state of health, feel better, look better, Perform better.
---
Erik O. Nelson, ND - Doctor of Naturopathic Medicine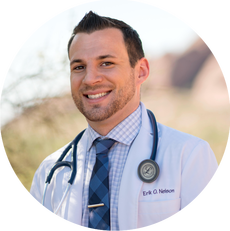 Erik Nelson, ND is a Doctor of Naturopathic Medicine and a graduate of Southwest College of Naturopathic Medicine (SCNM) in Tempe, AZ. He received his Bachelor of Science in Medical Biology at the University of New England in Maine. During his time at SCNM, Erik was a core member of the research department at the SCNM Center for Integrative Naturopathic Research as well as an external collaborator at Arizona State University's Biodesign Institute, Department of Infectious Disease. He has published and co-authored numerous peer-reviewed research articles and case studies in topics spanning Sports Medicine, Virology, Botanical Medicine, Dermatology, Infectious Disease and Lyme disease. Dr. Nelson utilizes the full scope of naturopathic medicine in clinical practice with an emphasis on Naturopathic Sports Medicine, Regenerative Injection Therapies (Prolotherapy, Platelet-Rich Plasma Injections (PRP), Trigger Point Injections), Natural Pain Management, Nutrition and Diet Counseling, Nutritional Ergogenic Aids, Kinesiotaping, Botanical Medicine, Bio-identical Hormone Replacement Therapy, Naturopathic Manipulative Medicine and Lyme/Tick-borne Infections.
---
---
Click below to learn more about our Naturopathic services offered in our Portsmouth, Hampton and Alton NH Locations. ​
​
​Diet & Nutrition:

Taking in the right types of foods, in the right amounts and at the proper times based on your individual needs and goals will significantly improve your health, performance, and long-term well being
​

​Botanical Medicine:

Approximately 80% of pharmaceutical drugs are derived from plants/botanicals. The beneficial effects of botanical medicine are well documented and supported and the potential adverse effects are minimal compared to pharmaceuticals.

Natural Supplementation:

Natural supplementation is the use of high quality nutrients, vitamins, minerals, proteins, amino acids, essential fatty acids, enzymes, and probiotics for specific reasons.



​​B12 Injections:

Research has shown that up to 40% of Americans may be B12-deficient. B-12 plays an important role throughout the body in regulating energy, metabolism and maintaining a healthy weight.

Regenerative Injection Therapy:

RIT are a set of injections using natural medicines into muscles and around joints, tendons, and ligaments to effectively stimulate and accelerate the healing of injuries.
​

Kinesiology taping ​ is designed to give support to muscles and joints without negatively affecting circulation and range of motion, also used for preventative maintenance and pain control.
---
Commonly Treated Conditions by a Naturopathic Doctor:
Allergies
Acid Reflux
Acne
ADD/ADHD
Addictions
Arthritis
Asthma
Anti-Aging
Anxiety
Autism
Autoimmune Conditions
Cancer Support and Prevention
Chronic Fatigue Syndrome
Constipation/Diarrhea

Coughs and Cold/Flu
Crohn's Disease
Depression
Detoxification
Diabetes
Digestive Issues

Ear Infections
Eczema
Fatigue
Female Hormone Issues
Fibromyalgia
Food Sensitivities
Gall Bladder Issues
Hair Loss
Headaches

Heart Disease
High Blood Pressure
High Cholesterol
Hormonal Imbalances
Hypothyroid/ Hyperthyroid
Irritable Bowel Syndrome
Injuries
Insomnia
Medication Side Effects
Menopause
Men's Health

Women's Health
Migraines
Muscle & Joint Issues
Osteoperosis

Pain
Post Stroke Recovery
Pre and Post-Surgery
Psoriasis
Shingles
Sinus Infections
Sleep Disorders
Smoking Cessation
Skin Conditions
Sports Performance
Ulcerative Colitis
Stress
Urinary Tract Infections
Vision Issues
Weight Management


---
​Chances are if you're not feeling yourself or would like to improve your athletic performance you would benefit from a consultation with a Naturopathic Doctor. If you feel sore or your muscles are not working right don't hesitate to book an appointment today or call (603) 431-4200 to see if Naturopathic Medicine and Chiropractic Sports Medicine is right for you.
​
Please take a moment and see if any of the other services we provide at Seacoast Sports injuries could help you achieve you Health and Athletic Goals.