Kinesiology taping / Kinesiology - Portsmouth,NH
---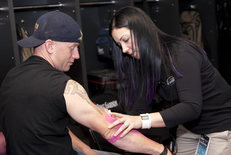 Kinesiology taping alleviates discomfort and facilitates lymphatic drainage by microscopically lifting the skin. This lifting affect forms convolutions in the skin thus increasing interstitial space and allowing for a decrease in inflammation, reducing pressure while enabling a more effective flow of blood and lymphatic fluid in and out of the target area. Kinesiology taping ​ is designed to give support to muscles and joints without negatively affecting circulation and range of motion. It is also used for preventative maintenance, inflammation, and pain control. Kinesio Taping is based on the body's natural ability to heal on it's own and aids this process by activating neurological and circulatory systems.
---
---
Kinesiotape
Kinesiotape is a flexible, latex-free, state-of-the-art tape that is applied to soft tissues to promote stability and selectively facilitate or inhibit muscle firing. Application of this tape by a trained professional also increases lymphatic drainage, improves proprioception and increases neuromuscular efficiency so an athlete may return from injury faster and even reduce their predisposition to injury. Specific techniques of kinesiotaping may also be administered to significantly reduce bruising and swelling associated with acute injuries.
---
Kinesiology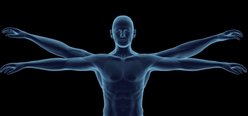 Kinesiology, also known as human kinetics, is the scientific study of human movement, it addresses physiological, mechanical, and psychological mechanisms of the human body. Kinesiology taping is a taping modality used by your practitioner, it works on a neuromuscular level to affect the soft tissues of the body. It can be used in multiple ways to facilitate or inhibit a muscle, to increase lymph flow, to reduce swelling, or to add stability to an injury while still allowing for full range of motion. Its ability to enable full range or motion allows the patient to participate in sports or activities of daily living without interference while retraining the neuromuscular pathways of a given joint or muscle to allow for rehabilitation and a return to optimum functioning of the affected joints and/or tissues.
---
---
Get Kinesiology taping​ Today!

Chances are if you have a sports injury, you would benefit from Kinesiology taping. If you feel sore or your muscles are not working right don't hesitate to book an appointment today or call (603) 431-4200 to see if Chiropractic Sports Medicine, Physical Therapy and Kinesiology taping is right for you.
​
Please take a moment and see if any of the other services we provide at Seacoast Sports injuries could help you achieve you Health and Athletic Goals.