​Myofascial Cupping Therapy - Portsmouth, NH
---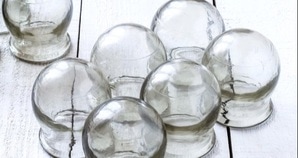 Myofascial Cupping (MC) is a unique treatment that uses suction to lift tissue as the cup is moved by a Sports Chiropractor or Physical Therapist, to decompress underlying tissue. Cupping is widely used in athletic training, physical therapy, and sports injuries clinics around the country. It is also being used in the Olympic games for pre and post-workout recovery and detoxification, specifically to decompress adhesions and scar tissue, relax muscle spasms, decrease trigger point pain, and decrease tissue changes and inflammation following trauma. Cumulative treatments increase muscle endurance, circulation, and lymphatic drainage and enhance the body's overall ability to recover from workouts and strenuous activity. There are two types of cupping techniques that are the most popular: stationary and gliding cups. Stationary cups are where one or several cups are placed in the treatment zone for 5-10 minutes. Gliding cups is when a topical ointment or liniment is placed on the skin first and the cups are gently moved across the skin, usually along meridians or fascial / muscle planes.
---
---
Conditions that respond to Myofascial Cupping Therapy:

Athletic Stress & Injury
Carpal Tunnel Migraine
Tension Heachaches
Pre- & Post-Operative Conditions
Bursitis/Tendonitis
Plantar Fasciitis​​​

Trigger points

Scoliosis
Scars & Adhesions
Myofascial pain syndrome
Fibromyalgia​

Poor Circulation
Sciatica
ITB Syndrome

Low back pain
TMJ Dysfunction
Chronic Pain
Arthritis
Muscular Aches
Neuralgia​
---
Get Cupping Therapy Today!

Chances are if you have a sports injury, you would benefit from Cupping Therapy.
​If you feel stiff, tight, or have chronic pain, don't hesitate to book an appointment today or call (603) 431-4200 to see if Chiropractic Sports Medicine, Physical Therapy and Cupping Therapy is right for you.

Please take a moment and see if any of the other services we provide at Seacoast Sports injuries could help you achieve you Health and Athletic Goals.
---