---
Meghan Thurlow, PT, DPT - Doctor of Physical Therapy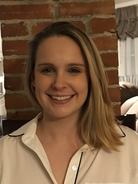 Dr. Meghan Thurlow received her Bachelors of Science and Doctor of Physical Therapy degree from Quinnipiac University in Hamden, Connecticut. Since then she has continued her education and expertise with specialized training in vestibular rehabilitation, post-operative rehab (large focus on total joints and arthroscopic surgeries) soft tissue injuries, pre-surgical rehabilitation, and myofascial release techniques. Dr Thurlow is driven to achieve excellence in patient care by providing compassionate and individualized treatment for every one of her patients.
"It is my passion to challenge, lead and inspire each person to achieve their full rehabilitation potential."
Dr Thurlow has an extensive background in orthopedics, total joints care, post surgical care as well as getting patients physically ready for surgery. She continues to further her education in advanced hands-on treatment techniques and assessment strategies for orthopedics and sports injuries to always be able to offer her patients the most current and effective treatment strategies to help them overcome any injuries or physical restrictions that might be preventing them from reaching their full athletic potential or optimum health and wellness.
Dr. Thurlow loves to work with patients of all ages and ability levels and strives to keep therapy interesting and relevant to her patient goals. Her focus is to give her patients the tools they need to learn to take care of their own bodies and get back to doing the things they love.Dr. Thurlow has a love for the great outdoors, she is an avid softball player and believes in the importance of minimizing physical restrictions for each of her patients in order to reach full mobility and achieve vigorous good health. When not at the clinic you'll find Meghan playing in the Seacoast softball league, spending time with her family and friends, especially her dog Rosce.
Contact Dr Thurlow for a consult today!
drthurlow@seacoastsportsinjuries.com
---
---