---
Erik O. Nelson, ND - Doctor of Naturopathic Medicine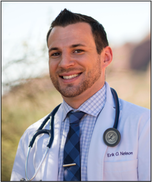 Erik Nelson, ND is a Doctor of Naturopathic Medicine and a graduate of Southwest College of Naturopathic Medicine (SCNM) in Tempe, AZ. He received his Bachelor of Science in Medical Biology at the University of New England in Maine. During his time at SCNM, Erik was a core member of the research department at the SCNM Center for Integrative Naturopathic Research as well as an external collaborator at Arizona State University's Biodesign Institute, Department of Infectious Disease. He has published and co-authored numerous peer-reviewed research articles and case studies in topics spanning Sports Medicine, Virology, Botanical Medicine, Dermatology, Infectious Disease and Lyme disease. Dr. Nelson utilizes the full scope of naturopathic medicine in clinical practice with an emphasis on Naturopathic Sports Medicine, Regenerative Injection Therapies (Prolotherapy, Platelet-Rich Plasma Injections (PRP), Trigger Point Injections), Natural Pain Management, Nutrition and Diet Counseling, Nutritional Ergogenic Aids, Kinesiotaping, Botanical Medicine, Bio-identical Hormone Replacement Therapy, Naturopathic Manipulative Medicine and Lyme/Tick-borne Infections.
Special Interests
Erik is a Granite State native and grew up in Seacoast New Hampshire having graduated as a scholar athlete from Spaulding High School in Rochester. Outside of medicine, Dr. Nelson enjoys all things soccer. He has both coached and played soccer from the U-5 level all the way to Division III college and holds his NSCAA National Diploma in coaching as well as a United States Soccer Federation coaching license. As a fan, Erik enjoys following US Soccer, New England Revolution and Manchester United as well as the Patriots and Bruins. Dr. Nelson leads the Kingswood Knights as head coach of the Kingswood Boys Varsity Soccer team in addition to serving as the Team Naturopathic Doctor for the KRHS Athletic Department.
Personal Philosophy
​
Dr Nelson seeks to restore his patients' health to its optimal state by using evidenced-based and functional naturopathic medicine. Health is a team effort in which Dr. Nelson and his colleagues at Seacoast Spine and Sport's Injuries focus on not only treating, but also coaching and leading their patients, empowering them to make the changes in their lives necessary for peak performance, injury prevention/rehabilitation, and overall wellbeing. From clinic to kitchen to courtside or field, Dr. Nelson aims to assist his patients and athletes to reach their goals in all things sports, health, and fitness.
​Contact Dr Nelson for a consultation today!
drnelson@seacoastsportsinjuries.com
---
---
Research/Publications:

Journal of Evolution and Health.Journal of Altern Complement Integr Med.PLOS | ONE.Oral Surgery, Oral Medicine, Oral Pathology and Oral Radiology.Alternative Therapies in Health and Medicine.
---