---
Brendan McCann, DC - Primary Spine Practitioner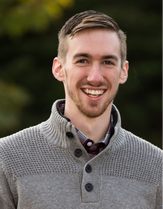 Dr. Brendan McCann strives to assist the members of the Seacoast communities in caring for and maintaining their health and musculoskeletal system with the same level of care available to elite athletes. His educational background includes a degree in Kinesiology from UNH, where his Sports Medicine interests shifted to include a focus on public health, preventive care and keeping workers healthy and moving. Spine-related problems are among the world's greatest barriers to maintaining an active, productive lifestyle, and Dr McCann sought to achieve the clinical experience in spine care during his doctoral studies to provide him with the skill set to manage a wide variety of disorders in an effort to prevent problems such as these. His patient-centered approach ensures that treatment focuses on achieving each individual's health and athletic goals.
Dr. McCann is a member of the American Chiropractic Association, including the progressive Millennial Think Tank. He also serves on the board of the New Hampshire Chiropractic Association, is the NH representative to the Northeast Chiropractic Council, and a member of the North American Spine Society.
Special Interests
Dr. McCann's clinical experience includes a highly sought after residency in multi-disciplinary spine care through the Rhode Island Spine Center, in addition to working with military veterans in the Canandaigua (NY) VA outpatient clinics and competitive endurance athletes in New York and New Hampshire. He remains a year-round runner, and also enjoys cycling and hiking. At home, his garden and cooking reflect his passion to improve public health through a healthy environment.
Personal Philosophy
While studying Exercise Science at the University of New Hampshire, Dr. McCann had the opportunity to work with Seacoast residents who were trying to stay healthy and active while also balancing full time work. As he pursued his Doctorate of Chiropractic studies, theirs were the stories that fueled his desire to provide superior care that would be the most helpful for New Hampshire's working class families.
What's a Primary Spine Practitioner?
A Primary Spine Practitioner (PSP) is a point of first contact for people who have spine-related disorders. The PSP's skills include the means to care for the majority of spinal complaints in their office, and the knowledge to appropriately coordinate services from the vast array of other providers who might help a patient. In this way, the PSP acts as the 'quarterback' in ensuring the best outcomes for each patient.
Contact Dr McCann for a consultation today!
Drmccann@seacoastsportsinjuries.com
---
---