---
Amanda Lajoie, DC - Doctor of Chiropractic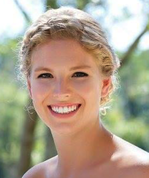 Dr. Amanda Lajoie graduated Magna Cum Laude from Palmer College of Chiropractic in Davenport Iowa and is excited to bring her personalized and integrative chiropractic care to the Seacoast and Lakes Region communities of New Hampshire. Dr. Lajoie is particularly passionate about sports and fitness, as a Sports and Rehabilitation specialist she's worked with athletes from a wide variety of disciplines. She was an NCAA Division I athlete at Santa Clara University in California and currently is a certified group fitness instructor. Her personal athletic philosophy has always been that movement is essential to maintaining proper health and function.
Dr. Lajoie's uses functional movement and active therapies to treat musculoskeletal pain and to correct the underlying aberrant joint motion that causes it. Often, we are taught about what our body cannot do and what it cannot handle, in contrast Dr. Lajoie's focus is to educate patients about what the body is capable of when given the opportunity to thrive.
​
Dr. Lajoie's treatment plans includes a variety of techniques that are specifically geared towards helping patients reach their performance goals. She has an extensive background of education that focuses on sports rehabilitation therapies, including advanced soft tissue techniques, such as myofacial release and instrument assisted soft tissue mobilization, as well as exercise protocols such as Dynamic Neuromuscular Stabilization (DNS).
Dr Lajoie understands that chronic injuries and pain can be detrimental to ones overall performance and life and that the concept of stability is essential for everyone, whether they are a weekend warrior or a professional athlete. When not at the clinic you'll find Amanda competing in the local Seacoast Road Race series, hiking in the mountains of the Lakes Region, or just relaxing with a book and her dog Nala.
​
Contact Dr Lajoie for a consultation!
Drlajoie@seacoastsportsinjuries.com
---
---