---
C. Robin Marcotte, LMT - Licensed Massage Therapist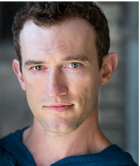 Robin received his first massage while in the midst of his graduate training in Northern California. As a student of Physical Theatre, it was necessary to keep his body at its healthiest. After experiencing how Massage Therapy can lift your mood, heal your body and improve your quality of life, he was hooked. Robin's extensive theatre training required him to develop a deep understanding of how the body moves in space. "It has given me a wonderful and unique perspective of massage therapy and the healing arts."
This training, coupled with his extensive knowledge of the musculoskeletal system, helps to aide his Massage therapy clients in optimizing their athletic performance and reaching their wellness goals.
Before moving to New Hampshire, Robin lived in Philadelphia for 11 years where he was the massage therapist for the Ritz Carlton, in addition to owning his own practice that served the athletic and performing arts community in Philadelphia. With Robin's background in Physical Theatre and Movement, his work is focused on the clinical side of massage therapy. Robin has worked on professional bodybuilders, athletes, Metropolitan Opera singers, Broadway actors, dancers, doctors and your every-day office worker. Robin believes that the body has the ability to enhance health if you provide the right environment and care. Sports chiropractic, physical therapy and massage therapy, coupled with strength and conditioning, all influence your body in a positive way, which allows the body to build stability and resilience.
Special Interests
In addition to practicing at Seacoast Sports and Injuries, Robin also teaches movement and physical theatre at several universities throughout New Hampshire and Massachusetts. When he's not at Seacoast Spine and Sports Injuries Clinic, you will likely find Robin teaching and directing across New England!
​"I am grateful for the opportunity to serve those who need my help in order to move better without pain and to help others to progress in their athletic endeavors."
Contact Robin for a massage today!
Robin@seacoastsportsinjuries.com
---
---