---
Bradley Houghton, LMT - Licensed Massage Therapist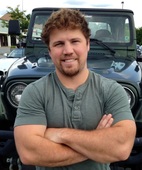 Brad is a Southern New Hampshire Native, born and raised in the Nashua/Amherst region. He attended the University of Utah where he graduated with a degree in Exercise and Sport Science. Upon graduation Brad returned to New Hampshire and quickly delved into Crossfit training where he utilized his degree and started personal training. Brad is currently a Certified Strength and Conditioning Specialist with an additional certification in Functional Movement.
Brad often takes continuing education courses and it was during one mobility course that Brad discovered a soft tissue manipulation technique used among massage therapists and other medical professionals called Myofascial Release. After observing the effectiveness of Myofascial Release, he decided to pursue massage therapy training. Brad attended the Seacoast Career School afterwards which he then gained his licensure for Massage Therapy. Brad has taken multiple courses to further his education with Massage Therapy and is currently certified in the Active Release Technique. Active Release Technique is very popular among athletes because it has great success treating problems related with muscles, tendons, ligaments, fascia and nerves.
Brad believes that the body has the ability to enhance health if you provide the right environment and care. Chiropractic care, massage therapy and strength and conditioning all influence your body in a positive way which allows the body to build stability and resilience. Every day Brad sees the detrimental effects of inactivity and the nagging issues of training without proper mobilization. As a massage therapist, Brad has the unique opportunity to help his clients increase flexibility and strength.
Brad is able to combine his health, wellness and fitness knowledge to aide his massage therapy clients in optimizing their athletic performance and reaching their wellness goals. When not at Seacoast Spine and Sports Injuries Clinic you will likely find Brad in a Crossfit gym or up in the mountains snowboarding during the winter.
"I am grateful for the opportunity to serve those who need my help in order to move better without pain and to help others to progress in their athletic endeavors."
Contact Brad for a massage today!
officemanager@seacoastsportsinjuries.com
---
---